Asset Management Software for Contract Manufacturing
As a Contract Manufacturer, you create products for many customers, each with unique requirements and uses of your equipment.
Regardless of facility size, productivity is typically driven by efficient documentation, automation and high levels of Overall Equipment Effectiveness (OEE).
For each customer, you need to deliver the highest quality products while maintaining compliance, reducing costs and keeping track of your equipment.
In Life Sciences, it is imperative to have low operating costs. However for contract manufacturing organizations, keeping costs low and prices competitive may mean the difference between thriving and going out of business. It is paramount to your success to have vendors that provide cost effective solutions. When it comes to your facility, you need a solution that delivers full functionality and performance while keeping your costs minimal and helping you to master complex equipment management.
Built for Life Sciences manufacturing, Blue Mountain Regulatory Asset Manager® (Blue Mountain RAM) tracks equipment lifecycles, easily integrates with manufacturing execution systems (MES) or laboratory information management systems (LIMS), manages compliance within your facility and provides on demand reports when you need them.
As a Contract Manufacturer, you can implement Blue Mountain RAM using either our Best Practices Template or a Custom Configuration. With a full suite of services, we can take you from Project Assessment to System Implementation in as little as 3 months.
Efficiently Manage Facilities, Equipment & Instrumentation
Comprehensive equipment lists that include availability, design capability, and performance characteristics can be created and maintained to meet the needs of your many customers.
Streamline Audits
GMP-centered workflows, detailed audit trails, and powerful reports are essential tools for both FDA and customer audits.
Part 11, Part 58, Part 210, Part 211, Part 606 and Part 820 Compliance
Designed to be used in compliance with ISO 9000 and the FDA's GMP & QSR regulations. Gain the necessary technical controls to enable Part 11 compliance.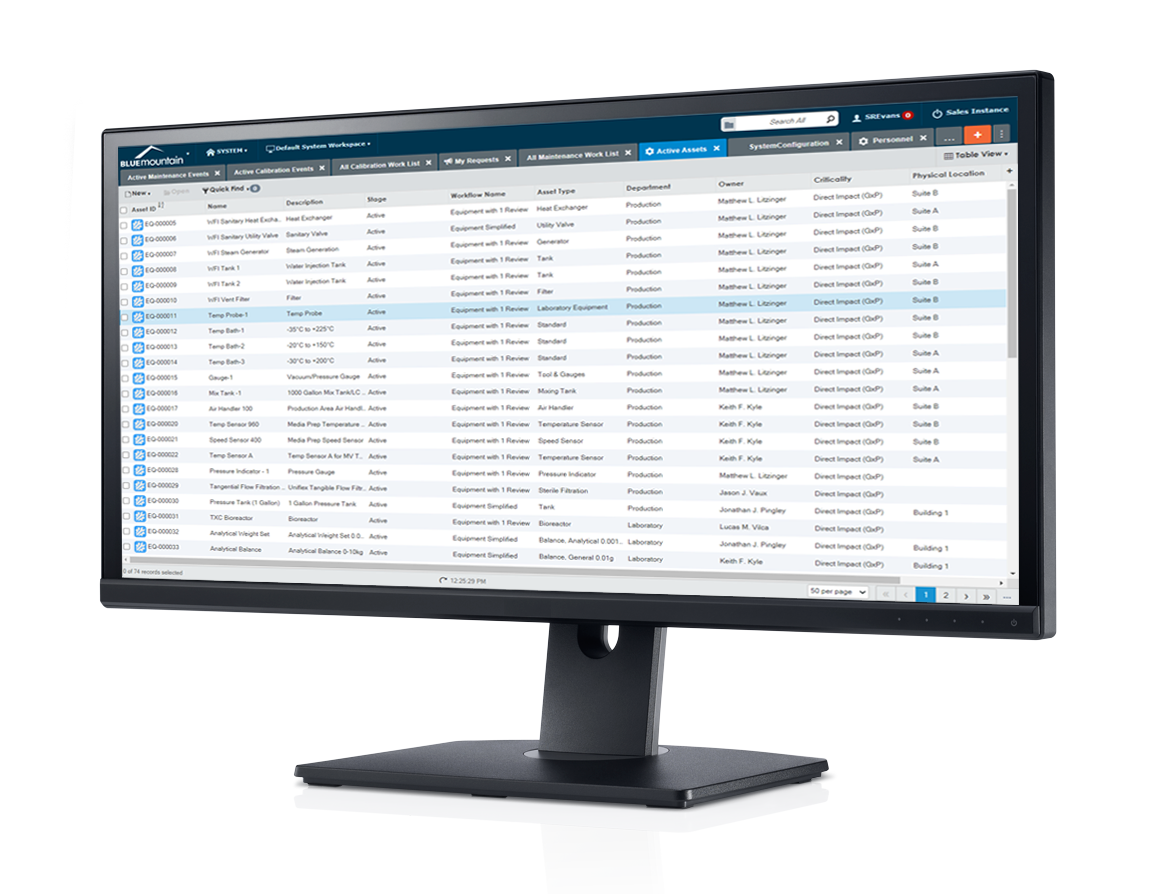 A few of our CMO Customers