Did you know that adding the first Set Point to a Measurement Data Template (MDT) disables all of the template's Global Settings?
An MDT has 2 areas of configuration:
Global (first tab and its sub-tabs, "Measurement Data Templates")
Set Points (second tab and its sub-tabs, "Measurement Data Template Details")
All Global Settings must be completed before adding the first Set Point since the action of clicking Add Point is the signal for Blue Mountain RAM to lock down all selected global settings.
NOTE: If you absolutely must change an MDT's Global Settings, the only solution is to delete every Set Point in the MDT, which will re-enable Global Settings. You can then make changes to the global settings and re-add the Set Points.
Global Settings are locked in order to ensure that they are applied equally to all of the Set Points of the MDT. The first time you click Add Point, Blue Mountain RAM presents the following message:"Adding a point will disable adjustment of global configuration fields. Do you wish to continue?"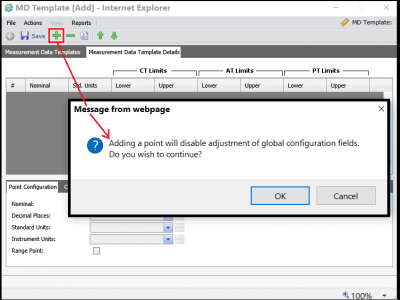 Although you cannot adjust global settings after adding the first Set Point, you can add, remove and configure as many Set Points as are needed in the MDT.
Investigate changing the MDT's status, editing the set points, and restoring the status.
If you are having trouble adjusting Set Points in an existing MDT, investigate whether the MDT is in a Status that does not allow editing.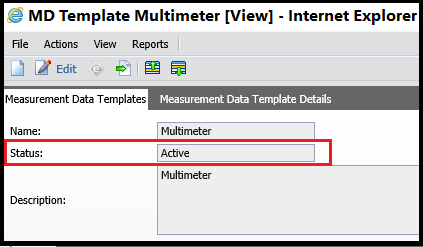 Use a Global Setting to control whether or not a user can add or remove Set Points on the Work Record copy of an MDT.
On the "Settings" sub-tab of the Global "Measurement Data Templates" tab, there is an "Allow Configuration" checkbox that controls whether set points can be added and removed on the work record's copy of the MDT (called MD when on work record; MDT only refers to MDT record).
CHECKED = users will be able to add and remove set points on work using MDT
UNCHECKED = users will not be able to add and remove set points on work using MDT
For further information, consult your Blue Mountain RAM User and Administrator Manuals. If necessary, please contact our friendly Support Technicians at techsupport@coolblue.com with questions. Also, please enjoy calling and speaking with your Regional Sales Manager (RSM) at 800-982-2388 if you are interested in Blue Mountain RAM training.